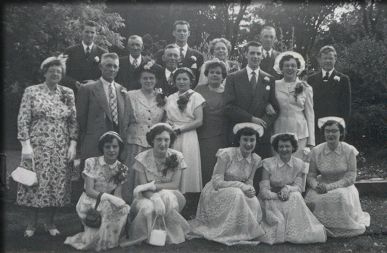 Back Row - Ray Chambers (usher), Eddie Hamilton (Roger's uncle), Benjamin Hamilton (Roger's Father), Keith Hamilton (best man & Roger's brother), Iva & Leonard Stanley (Dorothy's Mother & Father)

Middle - Winifred Hamilton (Roger's aunt), Harold Saunders & Mary Johnston (known as Aunt Mary to Roger's family), Margaret Hamilton (Roger's sister-in-law) Mae Hamilton (Roger's Mother), Roger & Dorothy, Melvin Campbell (usher & Dorothy's cousin)

Front - Barbara & Doreen Hamilton (Roger's cousins), Doris Healey (bridesmaid), Marjorie Campbell (matron of honor), Dora Healey (bridesmaid)


Left to Right

Joan Hamilton (Roger's sister &
later to marry Paul Hibbeln)

Joan McDaniel
(later to marry Keith Hamilton)

Among the out-of-town guests were Miss Muriel Fagan, Miss Joan Cruikshank, Mr. Donald Hamilton, Mr. Ralph Rodger, Mr. Dave Sugrue, all of Ottawa; Mr. Raymond Cole, Mr. James Bryne, of Montreal; Miss Theresa Moore, Mr. Stan Collie, and Mr. and Mrs. Max Code, of Smith Falls; Mr. and Mrs. Donald Lashley, Bowmanville.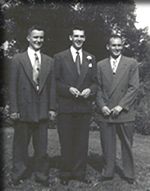 At the time Roger got married, he was living in Montreal and working at Royal Bank. He had moved into an apartment with a few other bachelors who also worked at the bank and they had dubbed themselves the "Royal Bachelors."
Two of the other "Royal Bachelors" in this picture with Roger are Ralph Rodger and Dave Sugrue.
Close Window